Dave and Ginny

Dear Rock and Diane,
Dave and I want to thank you again for such a wonderful time at your place. We loved the Friday night cookout. I hope you keep doing that. It really makes a person feel "at home." Also, we loved the "honeymoon suite"!! I video taped the stream and we can hear the sound of the water. Really neat. We hope to see you two again!!
Yours truly, Dave and Ginny
Little Falls, MN

Merv

Rock-
Just a note of thanks for the great food, the steaks were great, and the extra sight seeing, all make a special day! And the rocks were good too (somebody will appreciate them)! May your boots always fit well.
Merv
Cody, the dog and Mom from Wyoming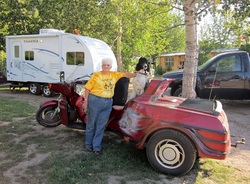 Used to stay up North but she loves it at French Creek RV...she'll be back!
---
Stranded Friends

Dear Rock -
Thank you so much for being you and taking care of us that night we broke down - we're finally fixed and off to Minnesota! We made this gift for you...All the best.
Love, PennElys, Maquah, Tayamni and Chetan.

The Hair Lady

Rock-
We were glad to have met you. We've enjoyed our stay here. You are one of a kind! Unique is the word. I'll keep you in my prayers and always remember you. God Bless.
Wendy (the "hair" lady) and Marty
Ode to Rock

The little shits rolled in, And with Rock did their adventure begin; He offered a mint, a site and a beer, Treated us like family with a smile and a sneer. The rain sucked as, in the car we cried, until our Custer dad sent us inside. Little did we know we'd make such a pal, and return again...we definitely shall.
Rock, It's not often to find someone these days that treats complete strangers as kindly as you treated us. We didn't expect to stay in Custer as long as we did, but it's hard not to with so many good and friendly people like yourself. It has been a memorable trip for us, playing music, cribbage, chatting, eating good food, and getting some damn great music lessons. We really appreciate all you've done,m and we look forward to the next time.
God Bless - Jessie and Nicole

---

Bob, Janette and Tabitha

Dear Rock, What can we say? You have been so good to us. Why? I don't know but I suspect that's just how you are. I thank you for going out of your way to welcome us here, for the boots, the ride, the lunch, the train trip and all your hospitality, everything.
We have not came across anything like this in our travels through the US and will always remember this. I didn't get a chance to say thanks and goodbye (oops ya have just arrived - so we can say goodbye!!) Anyway, a written big - thank ya for everything
Bob, Janette and Tabitha
Best Campground in the Hills
Rock n Dianne -
Thanks for another great stay - see you next time by
Paul
Best Campground in the Hills!